X-ray CT scanners
A device that makes sample interiors visible to non-destructive inspection using x-rays.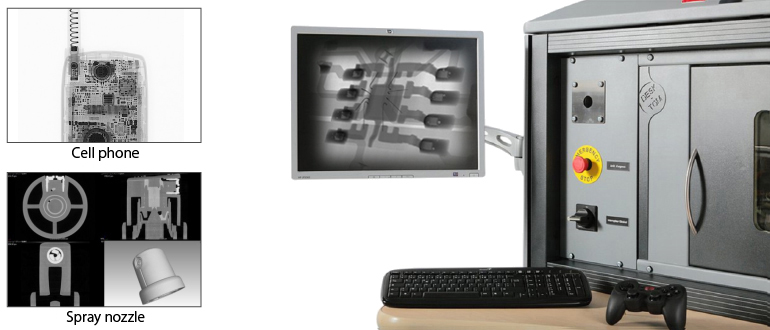 Sample interiors rendered fully visible through non-destructive and contactless inspection
This device enables non-destructive testing to gain a clear view of sample interiors. It serves all functions and covers all angles of interior inspection invisible from the outside, such as inner structures, voids, cracks, admixed foreign objects, as well as solder and the connection status between contact surfaces, etc.
Have you ever had this kind of problem?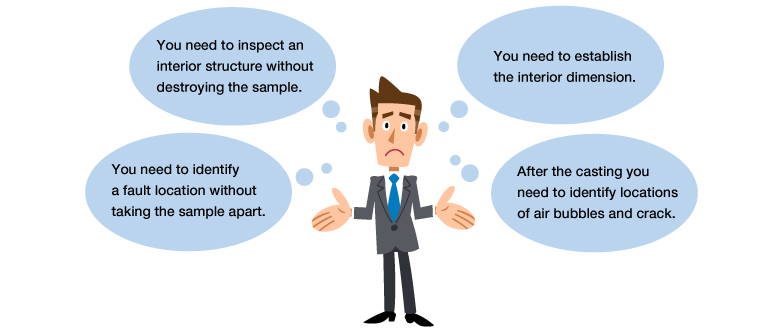 Many of these issues can be resolved by using the X-ray CT scanners of Seikoh Giken. By achieving clear visibility of the sample interior, our X-ray CT scanners allow users to see what they need to see.
Applications are becoming increasingly widespread across a broad range of industries
| | |
| --- | --- |
| User industries | Automotive, medical, electronic parts, optical communication, materials, and others |
| Examples of materials samples | Rubber, plastic, wood, glass, ceramics, aluminum, light metals, and pharmaceuticals |
| Application examples | Visual check of interiors, measurement of dimensions, comparison of designs, fiber orientation analysis, analysis of defects such as voids, etc. |
The X-ray CT scanners of Seikoh Giken are used in a diversity of applications across a wide range of industries.
Machine sales and NDT service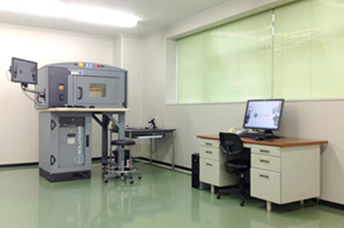 The X-ray CT scanners of Seikoh Giken are available for sale. We also offer non-destructive testing service using our X-ray CT scanners. Along with an analysis of requirements that we conduct together with our customers, we propose the best match with regard to equipment and inspection methods.
PRODUCTS