2001 fiscal year
March.26.2002
Plan for establishment of a subsidiary
We plan to establish a fully owned subsidiary in the Federal Republic of Germany to provide better customer service in Europe and reinforce the foundation for sales.
November.13.2001
Establishment of overseas offices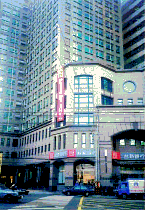 We have taken over rights concerning sales and maintenance of optical disk mold components which were owned by an overseas subsidiary of Sumitomo Heavy Industries Ltd. in order to fulfill the purposes:
(1) Improve customer satisfaction by speeding service
(2) Reinforce the service organization for sales and maintenance of our optical disk mold parts.
We plan to establish offices in Taiwan and the United States of America (SEIKOH GIKEN, U.S.A.) in December and an office in Europe in June of the next year.
(Photo: Taiwan branch in Xinzhu)
September.4.2001
Release of new products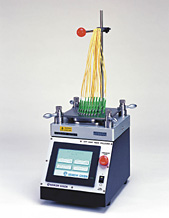 We have developed new models of optical fiber communication connector polishers, SFP-550S and SFP-550E. We will release the new models at the beginning of October.
While maintaining high polishing precision and stable quality of the SFP-120A (overseas model: SFP-550) , the SFP-550S and SFP-550E process diversifying connector types and support increasing production volume to meet customers' needs. (Photo: SFP-550S)
Click here for details.
August.31.2001
Technical and sales tie-up with Gould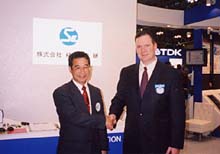 We have entered into a partnership with Gould Fiber Optics Division of Gould Optronics, Inc., a U.S.A.-based fiber coupler manufacturer, to develop optical components by combining technologies of both companies, and signed an agreement to cooperate in sales of products of both companies on July 31, 2001.
We are aiming at developing new products by combining the Gould's optical fiber coupler manufacturing, high-density mounting, and packaging techniques with our fiber end processing and polishing techniques.
In addition to our tie-up in technical field, we decided to sell products of each other.
August.6.2001
InterOpt 2001 exhibition ended successfully in the sizzling summer.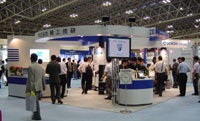 InterOpt 2001 was held in Makuhari Messe located in Kaihinmakuhari in Chiba Prefecture for four days from July 16 to 19, 2001. We showed our products in our booth this year as well.
Our booth was visited by more than 1000 people and gained popularity. We express our heartfelt gratitude to those who visited our booth on very hot days.
This time, we demonstrated two new models of optical connector polishers, STF-550S and SFP-550E, which are among our major products, and showed other main products, such as connectors, patch cords, functional parts (attenuators, terminators, optical switches, etc.) as well as conventional polishers and related products, end surface inspection equipment and reflection measuring instrument.
June.28.2001
Seikoh Giken participated in NFOEC 2001 held in Baltimore, U.S.A., on July 8 to 12.
We participated (booth number 4106) in NFOEC 2001 (National Fiber Optic Engineers Conference 2001) held in the Convention Center in Baltimore, U.S.A., on July 8 to 12, 2001.
June.5.2001
The president is changed.<
President Mitsuo Takahashi will become Chairman and Masatoshi Ueno, managing director, will become President on June 21, 2001. The purpose is to renew management and reinforce the research and development. We are working toward the goal of expanding our business and looking forward to your cooperation. (See the press release for related articles.)
2000 fiscal year