Ultra Precision Molds
Seikoh Giken provides problem solutions for customers through excellence in precision machining technology.
Since the founding of Seikoh Giken, we have used our high-precision mold designs and manufacturing know-how to craft a wide range of molds tailored to meet the wide and varied requirements of our customers.
In the 1980s, we initiated developing molds for optical disks and have established a solid position for ourselves as the global top in this field.
To this day, we have unceasingly developed leading-edge technologies in precision molds and metal machining. In this way, based on our experience and technologies, we provide optimal solutions sought by our customers for issues related to the high-volume production of molded components.
PRODUCTS
Precision Molded Components
In pursuit of the limits of injection molding, we provide high-quality molded components for the medical and biotechnology fields.
Through our precision mold technology and thin-wall and micro-transfer technologies we achieve thin-wall molded components with under 0.3 mm wall thickness and micro-transfer of surface texture details at the nanometer level. These technologies find application in products such as cell culture dishes and microchannel chips as high-quality molded components provided by Seikoh Giken for use in the medical and biotechnology fields.
PRODUCTS
Optical Communications Components
Providing technologies and products for optical networks marked by small size, high speed, and large data volumes.
At Seikoh Giken, we manufacture optical communication components mainly using optical fiber materials for a diversity of applications. Optical communication components fulfill a variety of functions in various locations of optical communication networks created by telecommunications systems companies. Telecommunications service carriers deploy and operate these optical fiber networks to provide end users with convenient telecommunications environments.
PRODUCTS
Equipment & Device
Centered on optical fiber polishing machinery, Seikoh Giken proposes process integration spanning the width from bonded anchorage required for jumper lead manufacturing lines to polishing and inspection.
Development of optical fiber related machinery and equipment
"There must be a more efficient method for polishing optical connector end faces." We have answered and resolved this customer requirement by developing machinery and equipment that grasp the characteristic properties of optical fiber.
PRODUCTS
Lens
Making Clear Vision Ahead
Visualize the future through precision mold processing technology and innovative molding technology
While any type of item is improving functionality or accuracy in our life, we Sekoh Giken is providing high quality small form lens for camera and 3D sensors in smartphone, IoT device and medical equipment with using our precision processing technologies that we have cultivated since our company founded.
PRODUCTS
Device for RoF Application
We create unparalleled equipment with our Radio-over-Fiber technology.
The potential of optical measurement and optical transmission
"Show us something we have never seen before." "We have an intractable problem. Solve it for us." We have answered and resolved these customer sentiments with RoF enabled equipment.
PRODUCTS
X-ray CT scanners
A device that makes sample interiors visible for non-destructive testing using x-rays.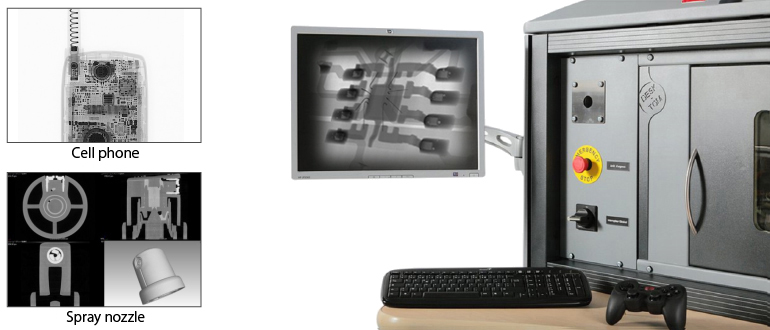 Sample interiors rendered fully visible through nondestructive and contactless inspection
This device enables non-destructive testing to gain a clear view of sample interiors. It serves all functions and covers all angles of interior inspection invisible from the outside, such as inner structures, voids, cracks, admixed foreign objects, as well as solder and the connection status between contact surfaces, etc.
PRODUCTS