Molded products for medical and bioscience
Contributing to next-generation medicine and biotechnology with thin-film micro-transfer molded products
Seikoh Giken leverages injection compression molding technologies that we have built up as one of the world-leading manufacturers of molds for optical discs to develop molded products such as cell culture containers and microchannel chips for the medical and biotechnology fields. We provide high-quality products to the market and contribute to the development of the medical and biotechnology fields.
Microchannel chips/Microarray chips
■Utilizing unique molding and forming technologies to contribute to the medical field
Based on the shapes required, we provide an integrated range of services from mold design to mold manufacture and volume production of molded products. We are fully equipped with a clean room and capable of handling everything up to assembly and packing processes such as sheet pasting after molding, and manage important surface roughness to a nano-order level.
We use a variety of chip-making techniques that combine the metal processing technologies that we have built up a fifty-year track record in since our founding, photolithography technologies derived from our experience with optical discs, and molding technologies centering on injection compression molding to achieve volume production of thin-wall molded products with a minimum thickness of approximately 0.2 mm. We can also handle a range of resins such as PC, PMMA, and COP.
Microchannel chip
■We leverage processing and molding technologies to resin micro- and nanochannel chips
We produce microchannel chips, which are devices that use microfluidic characteristics to mix, separate, and react reagents with small amounts of body fluid samples such as blood and DNA, thus facilitating drug discovery, liquid formulation, and biochemical analysis.
Processing methods are evaluated depending on channel size.
Microarray chip
■We handle liquid biopsy technologies and produce microarray chips
Liquid biopsy is anticipated to be a groundbreaking medical technology that allows early detection and treatment of cancer and other diseases that may arise in future. It involves analysis of the white blood cells, red blood cells, tumor cells, and exosomes, etc., contained in samples of body fluids such as blood, saliva, and urine. Seikoh Giken manufactures micro-size array chips intended for use in liquid biopsies (and can also handle nm-level transcription for optical disc pit sizes). Transcription of molded products also uses injection compression molding technology. Number display is also possible, allowing determination of observation locations.
Cell culture container with micro structure
■Cell culture container with micro structures on the cell culture surface (6 to 384 well)
Seikoh Giken products feature an integrated transparent lower section, achieved without the use of adhesives, allowing high-quality, highly reliable, high-volume production.
Micro structure patterns for different cell types can also be formed on the nano- to micron-order on the transparent thin-walled bottom of each well, customized for each well.
Observation containers
■Observation containers made from molds using polishing technologies
Seikoh Giken can fabricate and mold precision molds using polish finishing (hand- or machine finished).
We have a track record with medical devices (cuvettes, observation cells, dishes) and other items for observational use.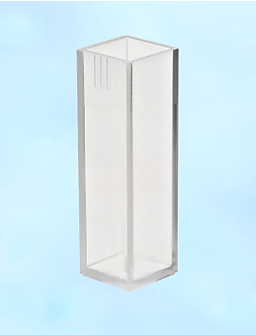 Thin-walled petri dish
■Dish with a thin-walled Φ14 mm section 0.17 mm thick section formed at its center using injection molding
Compared to products with thin sheets of glass adhered to their bottom sides, the integration of these dishes offers the advantages of being high-quality, highly reliable, and unaffected by adhesives. The flatness of the thin-walled section is comparable to that of thin-sheet glass products, allowing observation from underneath using precision optics.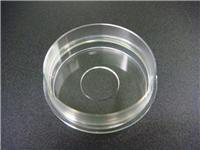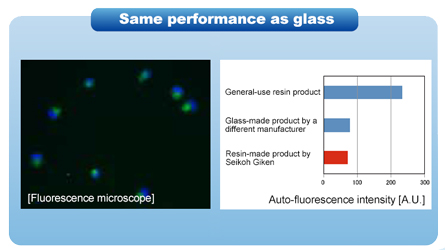 Micro structure petri dish
■Cell culture container with micro structures on the cell culture dish
It is characterized by integrally forming a nano- to micron-order micro structures, that form a scaffold for cells, on the bottom of the dish by injection molding. This means that on request we can now form micro structure patterns for different cell types on the nano- to micron-order, and moreover, can customize these at lower cost than other manufacturing methods for volume production. Many culturing benefits have been confirmed in cell culturing experiments.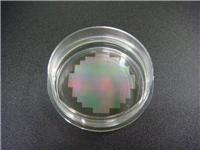 Please contact us if you have any other prototypes using specific shapes or materials such as biochips, microchannels, micro-RNA, or liquid biopsy.